My interests are religion, family, education, and traveling. I am a traveler, since 1986, I have been traveling to different parts of the world, I had visited
NORTH AMERICA:
Canada, Mexico,
THE CARIBBEAN
: Jamaica, the Bahamas, Grand Cayman Island, and
EUROPE:
Spain (madrid, Valancia, Santiago De Compostela, ect.), France (Paris, versailles, mouling rouge, ect.), Italy (Rome,Venice, Assisi, Florence, etc.), England, and Ireland (Belfast, Dublin, ect.).
My reason(s) for this site:
My primarily reason for wanting this Web Site is educational, and as part of the assigments for EDU-640, and EDU 674, which are two of the core requirements for the (M.ED) Masters of Education and Instructional Technology at American InterContinental University. AIUFL.EDU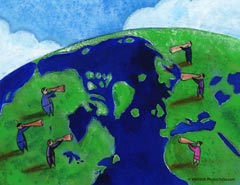 Posted 05/25/2004